Delete Papers
Select the papers you want to delete, and click

button (or press the Delete key on your keyboard). The papers will be put into "Trash" without warning. Papers in "Trash" can be recovered. To delete papers permanently, click "Trash" in the tag tree, and click the delete button (You will be asked to confirm the deletion).
Caution: By deleting the papers permanently, their associated attachments (PDFs, figures and other files), will also be permanently deleted from your local computer, and from the Peaya server. Deleted papers are not recoverable.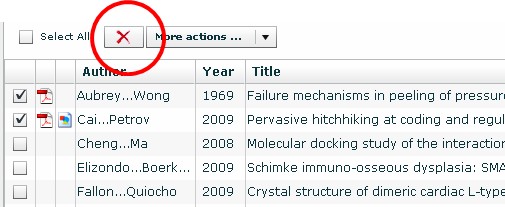 To undelete a paper, click "Trash" in the tag tree, and select the papers you want to undelete. Then click "More actions ..." and select "Undelete" option.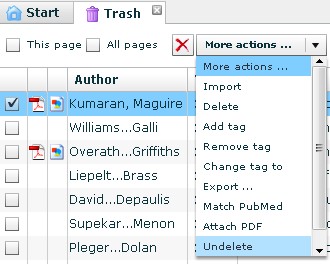 ---